Jessica Lahey of The Atlantic and Ashley Merryman of The New York Times sit down with Dr. Berger to discuss parenting, achievement, and failure with the Core of Education.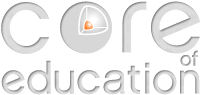 Core of Education
I feel better prepared as a parent after every conversation with Ashley and Jessica.
(PRWEB) October 14, 2013
The Atlantic writer Jessica Lahey, along with The New York Times writer Ashley Merryman, speak with Dr. Rod Berger about parenting the 21st century child in another podcast installment of the Core of Education. Topics covered include the ways awards are shaping children, the effects of competitive parenting, how college enrollment has changed, and much more.
Jessica Lahey writes about education and parenting for The Atlantic, The New York Times, and on her site,Coming of Age in the Middle. She's the author of a forthcoming book about why and how parents need to let their children fail. Among other subjects, Jessica speaks to why back-to-school night made her feel like a bad mom and what parents can do to change those feelings.
Ashley Merryman is also a New York Times writer and national award winning co-author of New York Times bestseller, NurtureShock: New Thinking About Children, along with Top Dog: The Science of Winning and Losing. Ashley speaks to innovative ideas in parenting and explains why she believes that losing is good for kids.
"I feel better prepared as a parent after every conversation with Ashley and Jessica," said Dr. Berger. He continued, "Their ability to navigate the murky waters of 21st century parenting never ceases to impress me."
Ashley and Jessica also discuss the impact of television on already crowded schedules, the danger of technology in a child's room, social network's reflections on popularity, the potential for parents to exaggerate, and the shift in tutoring culture.
To find out more visit Core of Education here.
—
About Core of Education
The Core of Education is an op-ed blog and podcast interview series hosted by Rod Berger, PsyD, and underwritten by RANDA Solutions. The Core focuses on vital issues to educators and policy-makers, as Dr. Berger interviews key education thought-leaders from across the nation and around the world. Core podcasts work to provide a platform for open, honest discussion and debate on education challenges and triumphs. Berger, interviews international policy makers, ed entrepreneurs, state commissioners, district admins, and teachers and strives to insure everyone involved has a platform to learn, and that's what's at the "core of education."